---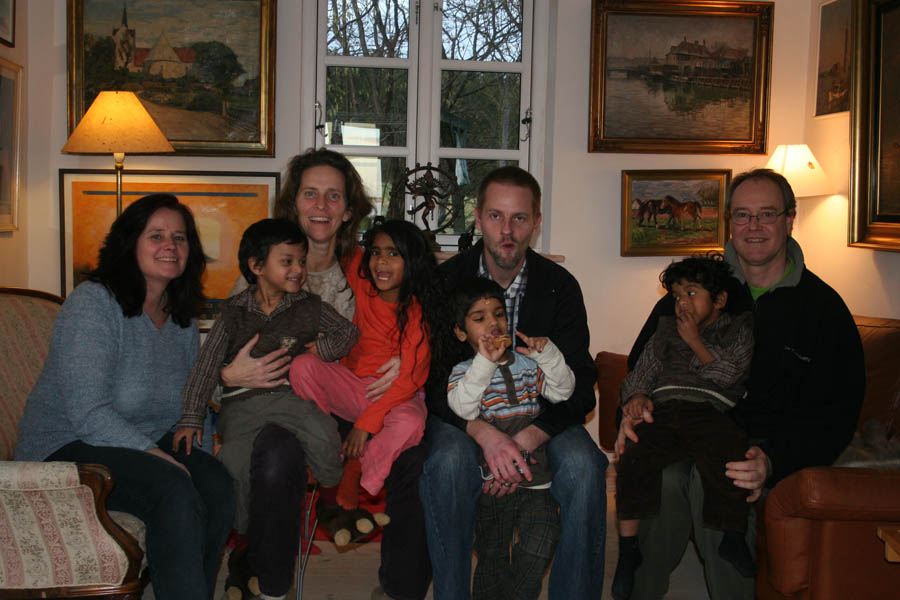 Saturday morning I woke up early , only to start the day feeling the blood stream through my entire body. In just a few hours Annette Havemann Linnet would pick me up and we would drive to her house where I would see Sadasiv again. The last time I saw him was in April 2006. Annette arrived and off we went. We stopped on the way to tank up the car ith gas, I got my camera ready... I didn't want to miss this moment. As we pulled into the driveway Annette's two daughters greeted us and were all

s.
We went inside and the girls told me that their brothers were in the other room playing. Sadasiv came out and was very shy at first as I had anticipated. He kept looking at me and then looking away when our eyes would meet. I knew then that he remembered me. I had decided to stay very calm as I didn't want him to feel overwhelmed with my presence. I started to take some pictures
and he started to feel comfortable with me as he had been in India. It was as if the camera triggered something within him, reminded him of something which I cannot put into words. Maybe in some way it was significant to him and triggered a sort of comfort. In any case there was a level of calmess and recognition through the lens of my camera.
All of a sudden Uday's family pulled up and everyone started yelling "Uday is here", "Uday is here". I grabbed my video camera and followed Annette and Sadasiv out to the car. Uday was already out of the car looking around. As he approached me I looked at him with a huge

and said; "Hi Uday" , he just gave me this look like which can be described as...yeah I know you but I need to look around this new place a bit, I've just arrived to you know... We stayed outside for a little while talking to his parents before heading inside. It was such a magical moment seeing the two boys together. Sadasiv and Uday didn't react to one another, Sadasiv went straight to his mom.
Once we were inside we sat down for coffee and tea and the boys started to open up and play with the toys. Uday was very fascinated by the chalk board in the kitchen area. At one point Uday went up stairs to the childrens play room. He fell in love with the slide they had and kept telling me to film him going down the slide. Ten minutes later he was ready to go back down stairs. Uday made his way to the stairs while I was filming him, he stoped, looked up at me and said "Arent you coming too?" He spoke in Danish. He reached his hand out and asked me to hold his hand and my heart just droped. This was our first time he spoke directly to me since India when I had no idea what he was trying to tell me back then. On the way down I told him that I was very excited that we could finally communicate in the same language and he agreed with me and told me that he remembered me. This was yet another special moment for me.
The rest of the day we had lunch, looked through video footage from Bal Vkas with the children and just enjoyed our time together. Nightfall set and it was time to say goodbye to Uday and his family. As we all walked outside, Sadasiv and Uday were all

s calling each other names and saying goodbye.
This was truly a special day for all of us. I feel very blessed to have been apart of this. I would like to thank Annette and her family very much for inviting me to be apart of her son's reunion with his best friend from Bal Vikas.