---
It's been a little over a week and finally I have access to the web to post on my blog. A lot has happened during our past 10 days in India.
On January 19th, 2006, Trent, Patrick and I departed from George Bush Intercontinental Airport in Houston, Texas. With all our camera equipment and personal belongings we proceeded to check in only to find that our luggage was overweight. Bummer, but after getting rid of some underwear we made it through. Like everyone else we went through security checkpoint which turned out to be quite an experience. With our carry-ons and shoes going through the x-ray machine, we were all

s and laughter until I went to put on my shoes. There was a dead baby lizard in it. I gave off a loud scream and everyone stopped what they were doing. Yikes, shouldn't have done that. I looked over at Patrick and Trent who looked worried as if I was going to get in trouble but luckily airport security started joking with me, and laughing at or should I say with me. I hate to say this but I think it traveled all the way from my house to the airport as I had kept those shoes outside. Poor lizard.
The first leg of the trip from Houston to Amsterdam took 8 hrs. We slept for the most part since it was night for us. Once we reached Holland, where we had a 3 hour layover, we decided to venture around. To our surprise all the airport shops and restaurants were written in English, not Dutch and English, but just English. We were a little taken back by it, as I clearly remember the days when it used to be in both languages.
We arrived in Mumbai at 11:50 pm on the 20th. Greeted by the humidity and the smell of sweat we proceeded towards passport control. This time everything was written in Hindi. It took us about an hour to get to the exit, where we were graciously welcomed by Jaisita, with whom we'll be staying for the next 3 months, and her daughter. For those who are not aware, Jaisita was my social worker back in 1978 and the one who connected me with my family.
After a thirty minute drive it hit me that I was in India. Driving through Mumbai we passed high-rises, slums, people, and a lot of traffic. Finally we reached the Raheja Complex in Malad East, which is where Jaisita lives. It's on the outskirts of Mumbai. Her flat consists of two apartments merged into one. Trent and Patrick stay in a guest room together and I stay at the other end next to Sanjukta's, Jaisita's daughter's, room. At the moment parts of Mumbai are going through a drought, including Malad East. This means that we have running water twice a day from 6 to 9:30 in the morning and again from 7ish till about 10 in the evening. In each bathroom there are two buckets, which are filled everyday so that we always have water. I am reminded of the little things I take for granted back home that are not so little here. But once you get the hang of it showering from a bucket is a piece of cake. Jaisita has been extremely kind to buy TP so that we don't have to use the bathroom Indian style, as they call it. Most importantly everyone on this trip has adjusted and are enjoying our new way of living. Raheja Complex is a tall building with six floors overlooking Malad East.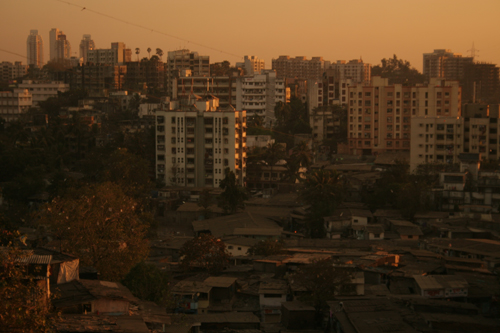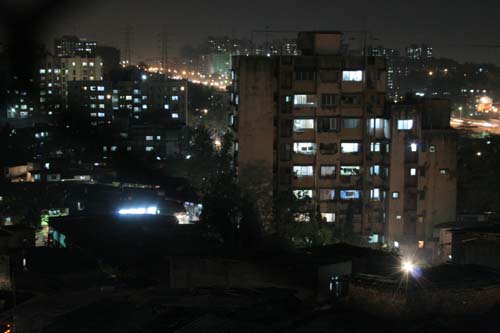 Our first day in India was a bit of a relaxed day. We were trying to get over the time difference, which is almost 12 hours. We went out for a short ride, just to look around and get a feeling of placement.
Our second day here we went downtown to a courthouse, and I got to witness two local adoptions finalized. Trent and Patrick had to wait outside, so they went and saw the Gateway of India. (PLEASE NOTE THAT IN SOME CASES I CANNOT POST CERTAIN NAMES, CONVERSATIONS, LOCATIONS, ETC. DUE TO LEGAL ISSUES.)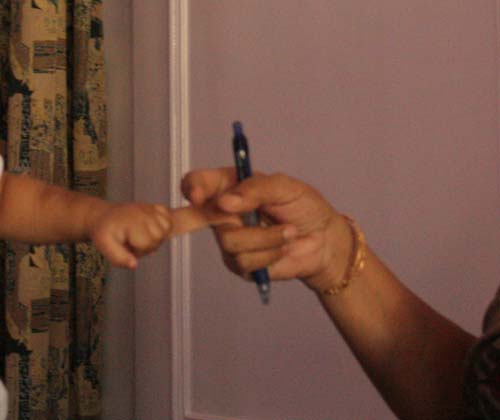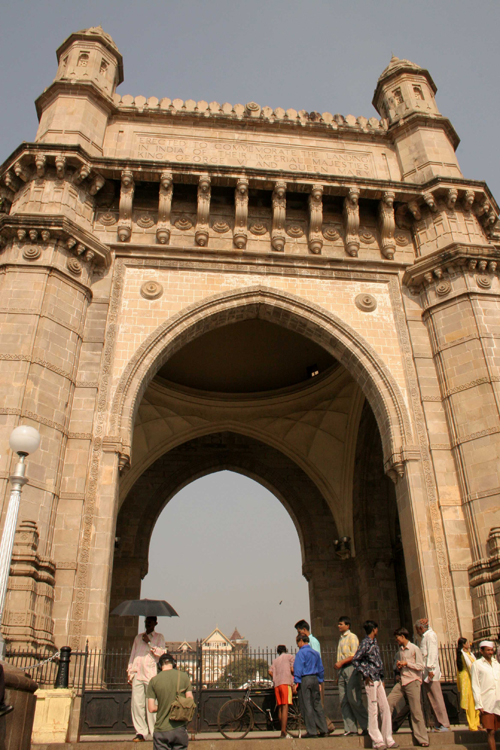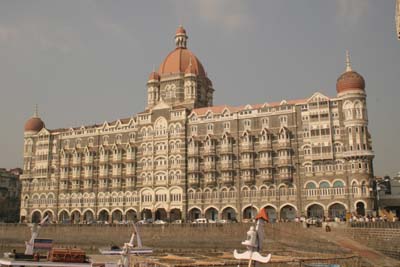 On Sunday I met my dad's side of the family for the fifth time in my life. It was such a blessed moment, because this was the first time we all knew English and could finally talk. They are amazing people, full of warmth.
Monday we went to see a well-known filmmaker here in Mumbai in Film City. On the way up the slender dirt road, we stopped to watch a film set being built for a western movie. We thought, "Wow, here we are in the East looking at this all-American film set."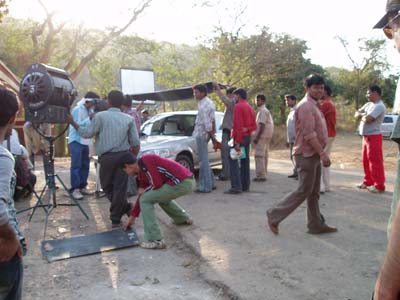 Tuesday we went to Bal Vikas (the orphanage) to see all the beautiful children, and to meet with two Indian families who came to pick up their adopted children. The process the parents had gone through up to this point was very different from that of an international family. Indian families are able to take their children home at three months old, while going through the process. International families wait for years and receive their children at one to two years of age. Times have changed however, and as not all adoptions are success stories, extra precaution has to be taken. An Indian family will be required to stay in Mumbai until the adoption is finalized and will have to come in for check-ups. The same procedure cannot happen once an international family receives their child, which explains the difference in the process. While I'm out here I will be speaking to several mothers, parents, couples, and social workers to learn more about adoption and the process it takes.
Wednesday we went back out to shoot, driving to downtown Mumbai. I realized for the first time that there are not many street signs here, nor are there traffic lights. Though the streets have traffic lanes, no one bothers to follow them, and everyone pretty much drives wherever and whenever they please. Everything is identified by landmarks and I am starting to get a sense of place when I am out and about. Driving from Malad East on the highway, you see a lot of poverty along the side of the streets in some areas. The difference between being poor and living on the street here as opposed to, let's just say, the US, is that it is socially accepted by everyone here. No one seems to really bother or make an issue of it.
You also realize that you cannot help everyone here though it's the first reaction that comes to mind. Downtown Mumbai itself reminds me a lot of an up and coming New York City but still not like Dubai which is far more advanced.
Billboards start to appear the further into Mumbai you go. I have not seen any interactive ones yet, though I have been told that they do exist. The ads are very much like the billboards I see in the States, only featuring Indian people. The branding here is very Western-oriented as well. There is a cell phone company called Hutch (formerly known as Orange for those who know that network) which uses the exact same branding as T-Mobile. I asked if they are affiliated in any way, but that is not the case.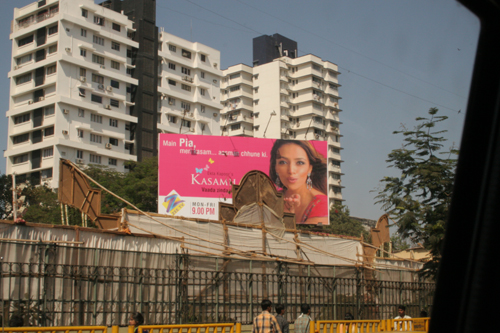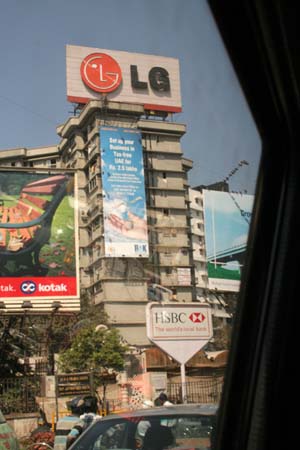 Now onto the Great Internet Struggle. I've heard that there are Internet cafés and wireless connections out here, but it must all be in the heart of the city (a fair distance from me) because I have spent days trying to get us connected to the net and to establish a wireless network. At this point I am grateful to finally be able to log on, check email and post to my blog. I am still in the midst of trying to upload work to my site. The PC connection we are using is very slow, so bear with me.
Thursday we went to see a Hindi Movie Rang De Basanti. (For those interested, I bought the sound track and will be happy to share it with you, or purchase one for you, it's 160 Rs so let me know before I return) Some parts were in English. The movie was three hours long with an intermission. Surprisingly we were all able to follow the film. I highly recommend that everyone see it when it comes to the States. Prior to seeing the film, we all got to see the main actors. It was like a mini Hollywood film premiere and a lot of fun to experience.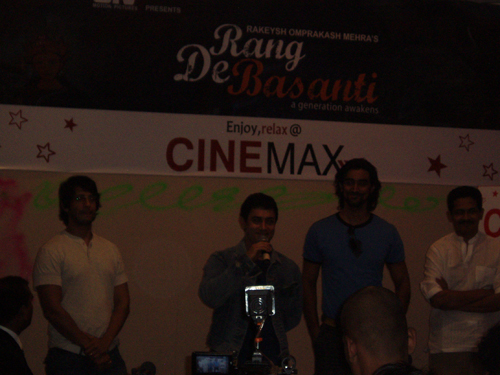 Friday, we shot some more and went for a drive. I got to see all the call centers that we deal with when calling our service providers late at night in the US. I joked with Sanjukta and told her that we should pay them a visit as I have probably spoken to a couple of them in the past. Of course we didn't go in but it would have been fun. Sanjukta told me about the training they go through and how many Americans often yell at them. A book " One Night @ The Call Center by Chetan Bhagat " has been written about a night in an Indian call center. Great book, I am bringing a copy back with me.
Saturday we were all invited to attend the first birthday of an adopted child who is son of a politician here in Mumbai. I have been told that when a woman is pregnant here, they have a huge celebration when they reach the 7 month mark of their pregnancy and again when the child has been born. Since that goes lost when adopting, a couple will go all out on their child's first birthday.
After ten days here we are finally over jet lag and are able to work on a normal daily schedule. I'll be posting throughout my stay here. If you have any questions or need more information in detail, and if you know that the subject matter is not something I will be able to post about, please email me.