---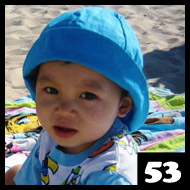 Hi Everyone,
A couple of months,
http://www.babyfryd.dk
held "The Cutest Baby Contest" on their website to celebrate the beautiful children of Denmark. The 20 finalist have been uploaded to Baby Fryd's website and I congratulate all the parents who entered their child into this contest. All of your children are absolutely beautiful.
I'd love for all of you to please take a moment to visit the link below and vote for Noah Sistrup # 53 adopted from Vietnam for the grand prize of 1000 DKKR.
http://babyfryd.dk/survey.php?osCsid=26 ... dd57b24cd7
You may wonder why I am in favor of Noah.... I think Noah represents what I refer to as "World Adoptions" in such a beautiful way along side his mother Charlotte who adopted him as a single mother. Charlotte's road to becoming a mother was a long yet an emotional journey as it usually is for all who adopt.
Year's back, Charlotte opted for adoption as her option when she hadn't found the man of her dreams, which most women dream of. She decided that this was not going to stand in the way of her building a family, she therefore applied for adoption and began the long tedious, and tough journey. 3 years later she finally received the phone call that she had become a mother to little Noah from Vietnam...
Charlotte is such a down to earth beautiful person who never asks anyone for anything. She loves her son with all her heart and it shows through Noah picture... THE TWO OF THEM WERE A MATCH MADE IN HEAVEN and I am honored to have met Charlotte through my project.
I hope that you will vote for Noah despite the site being written in Danish... Please Click on this link :
http://babyfryd.dk/survey.php?osCsid=26 ... dd57b24cd7
1) Enter your Name in the first box.
2) Enter your email address.
3) Enter the reason why you think Noah should be the winner.
4) Hit the send button.
Thank you to all of you.... :)